Product Recall Notifications
What is a Recall Notification?
Recall notifications call the consumer's attention to products that need to be repaired, modified or replaced after the manufacturing process. Many times, a simple replacement part may be necessary to improve performance of the product.
How do I know if my product is being recalled?
The information provided below specifies by product ID or serial number the models and versions affected by recalls. Locate your product ID code or serial number and compare it to the ones listed below. If they DO NOT match, then your product is NOT affected. If they match, please register and the remedy will be provided to you to correct the issue.
Identifying Affected Products
To determine if your product is included in a recall check your product ID or serial number as shown in the details of each recall notice below.

Product ID stickers or serial numbers vary by product. Refer to the details of each recall below to determine where to locate and how to identify your product ID or serial number.
April 20, 2017
Razor USA Issues Voluntary Recall for Repair of Certain RipStik Electric Motorized Casterboards
July 6, 2016
Razor USA Recalls certain Hovertrax Self-balancing Scooters
September 25, 2008
Razor recalls certain Dirt Quads
September 5, 2008
Razor USA Recalls certain PowerWing Scooters Due to Laceration Hazard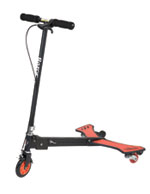 October 5, 2007
Razor recalls select E300 Electric Scooters
June 14, 2005
Razor recalls PowMax Battery Chargers
Affected Serial Numbers:
Any number that starts with B2######, B3######, B4######
View CPSC Press Release