Watch the RipStik Electric
Feel the Awesome Power of RipStik Electric!
Power up the twisting carving fun of RipStik caster boards with Razor's new RipStik Electric. RipStik Electric features a powerful but lightweight lithium ion battery, in-wheel Power Core™ hub motor and a wireless digital hand controller. Detach the wireless remote, step on board, and feel the Power Core hub motor amp up your ride!
The RipStik Electric is a light and agile electric ride-on. Razor's Power Core Hub Motor Technology is the in-wheel technology that powers the RipStik Electric. Feel the rush of surfing or snowboarding on dry land, this time with electric power!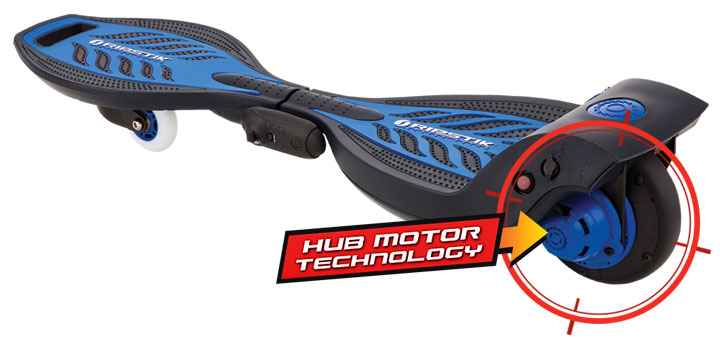 Amp Up Your Ride with Power Core™ Hub Motor Technology
Power Core is Razor's breakthrough hub motor technology that integrates the electric motor directly into the rear wheel hub, which eliminates the need for a chain. More efficient and maintenance-free, the innovative Power Core hub motor gives the RipStik Electric up to 40 minutes of ride time and speeds up to 10 mph! RipStik Electric's innovative design delivers a long list of awesome features:
Light and Strong
Light weight — only 15.3 lbs
Portable: convenient carry handle
Construction: Fiber-reinforce polymer
Lithium ion battery-powered
It's Electric – Speeds up to 10 mph
Wireless digital remote controller
Up to 40 minutes continuous ride time
Power Core™ Technology
No Maintenance, In-wheel Motor
No alignment required
No chain, no chain tensioner