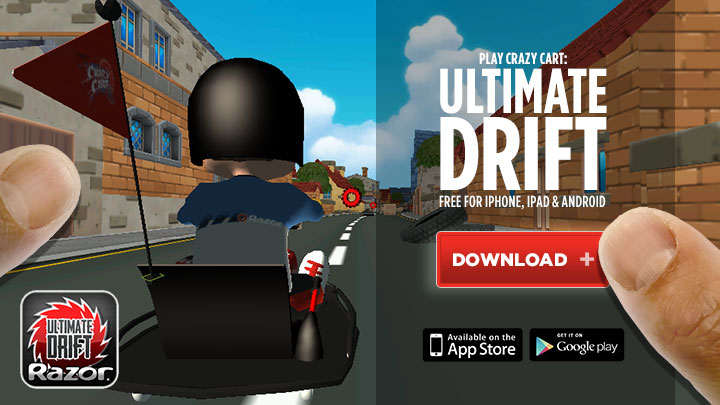 Razor Crazy Cart: Ultimate Drift let's you go head-on as the driver of the Crazy Cart. Race in a fun urban city, drift and dodge through an obstacle course and do 360º spins in the palm of your hand!
Watch the gameplay video:


Download the free app. Available now for iPhone, iPad, Android and Windows Phone devices.
iPhone and iPad Download — Razor Crazy Cart: Ultimate Drift
Android Download — Razor Crazy Cart: Ultimate Drift
Windows Phone Download — Razor Crazy Cart: Ultimate Drift
Razor Crazy Cart: Ultimate Drift game features include:
Drive forward or backward, spin and drift like a pro to avoid the obstacles that get more challenging over time.
Infinite, randomly generated tracks ensure you never play the same game twice.
In Crazy Cart mode, you speed up, spin around and drift your way through obstacles and multiply your coins faster.
Sync your moves to the arrows and activate Crazy Cart mode faster.
Use your 360-degree spin (swipe down) to knock lighter obstacles out of the way.
Pick up power-ups along the way to earn extra coins and get further easily.
Compete with your friends by sharing your high scores on Facebook and access Global Leaderboards with Game Center.
Buy extra power-ups in the shop (or earn them by playing) and use them as multipliers to get further in the game.
Come back every day and win some awesome in-game prizes.
Content Rating
Everyone, Ages 4+
Size
68 MB (approx)
iOS Compatibility
Requires iOS 5.0 or later. Compatible with iPhone, iPad, and iPod touch. This app is optimized for iPhone 5.
Android Compatibility
2.3 and up
Windows Phone Compatibility
8 and up