TRICKtionary
Check out the TRICKtionary to learn all the tricks and add some new moves to your arsenal.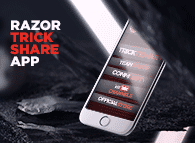 Bring the Razor community with you everywhere. Access the Tricktionary to learn new tricks, then share your favorite tricks with friends.

Get the FREE Razor Trickshare app!
S-C-O-O-T
Team Razor's Jason Beggs and Tanner Markley go head-to-head in this featured game of SCOOT

Check in with Team Razor™ to catch all the action from around the globe.

Go
Technical Terms
Coping
Metal pipe at the edge of quarterpipes, grind boxes, and other skate park obstacles.
Deck
The plate on which the feet stand.
Extension
Some half pipes have an extension, an elevated section that provides additional momentum at the beginning of the ride.
Flat Bottom
The transition in modern half pipes is divided into two halves and connected by a horizontal section called the flat bottom.
Halfpipe
A construction made out of concrete, wood, metal, or snow with the shape of a pipe cut in half lengthwise.
Hip
Two quarterpipes placed at a 90 degree angle.
Quarterpipe
A curved ramp that continues until near vertical.
Roll-In
A variation of the extension with a round transition between table (the deck) and vert.
Spine
Two quarterpipes placed back to back with a narrow gap.
Table (or the Deck)
Flat platform from which a rider rides into the half pipe.
Transition
This describes the half circle of the half pipe (with a radius of about 3 m) and leads to the vertical vert located above it.
Vert
The vertical portion of the ramp that sits above the quarter pipe and is lined at the top by the coping.
Tricks
Loading Trick…
Please wait momentarily for the awesomesauce.